Welcome to our web site!
We have been food business professionals since 2001, and we pride ourselves on providing customers with the best-quality products and personal service. You can order from us simply by calling (cell)619.250.1281-or 619.443.1930.
Visit one of our retail locations that carry our famous award winning products.

We take enormous pride in creating our products, and hope that you'll find something in our catalog that you like. We also can create custom orders and tailor make our products to suit your personal needs---- from mild to hot --or beyond, your pallette will be "mucho happy" --email us at
salsabravo@yahoo.com
and let us know what you want.
We look forward to doing business with you.
Try our famous:
Tamales
Guacamole
Spicy Hot Carrots
Spanish Rice & Beans
Flour & Corn Tortillas
Tortilla Chips
Seisel's Meats-Morena District
Windmill Farm's-Del Cerro
Stumps Market-Pt. Loma
Keil's Market-Clairemont
Wholefoods Market-La Jolla
J.O.E.S. Cafe-Pt. Loma
Harvest Farms-Lakeside
Wholefoods Market-Hillcrest
Look for the bright yellow label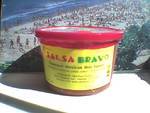 Bulk orders our specialty